Valentine's Day is getting closer and your biggest challenge for the upcoming days is obvious: find the perfect gift for YOUR valentine. What may seem as an easy-peasy task in the beginning, may change into horrific chase for the last-minute gift and result in something we call 'disaster'. Fortunately, we're here to give you a hand! Surprise your love with a new pair of designer sunglasses just in time for spring or choose a pair of prescription glasses in style they adore. If you need some inspiration, take a look at some of our top Valentine's Day picks together with our Valentine's Day Gift Guide for him & her.
GIVE THE UNEXPECTED
Classic is not boring and good taste equals true love. Play it traditional and you can't go wrong. If you're looking for a pair of sunglasses for your lady, try Ray-Ban Erika, all-time classic available in more than 10 color combinations. Every modern woman has them! If you're thinking more of a pair of prescription glasses, our top pick that represents elegance and good taste is definitely Vogue VO5151 2533. Smooth shape and neutral opal sand color combined together will look gorgeous on your lady's face!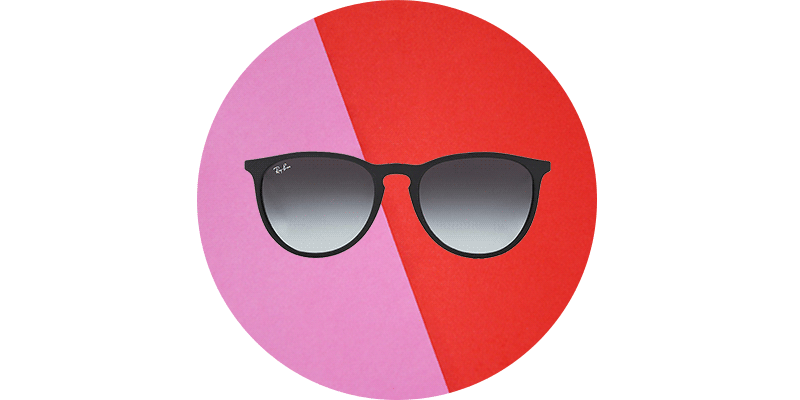 What can be a better gift for your man who loves classic and a good pair sunglasses rather than a piece of frames created from warm organic material. Kerbholz Albert Rosewood sunglasses are made of the finest wood featuring quality and clean design of classic wayfarer shape. Our classic prescription alternative for a man of your life is Persol Classics PO3012. Enriching eyewear industry for over 100 years, Persol offers high quality, Italian tradition and satisfies demands of the most sophisticated hearts. Persol Classics has it all - classic shape, classic colors, classic vibe.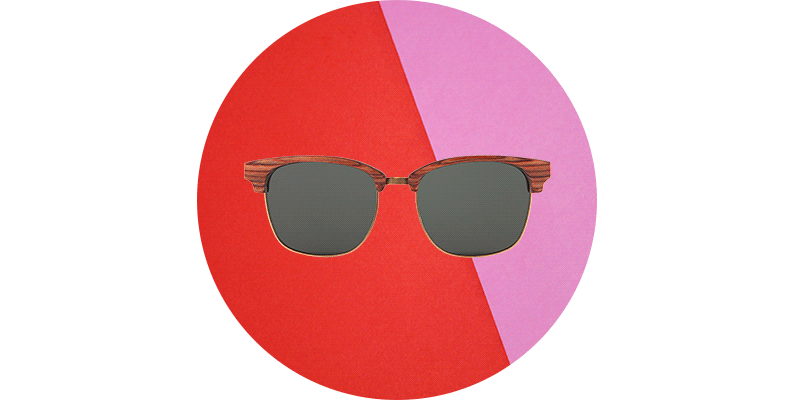 GIVE THE CONFIDENCE
Date night often calls for a bit of courage and we have something for those who dare as well. Women are crazy in love with fashion and sunglasses are not an exception. These funky Marc by Marc Jacobs MMJ476/S with mirrored lenses will turn the world of your love upside-down. If you're looking for the perfect eye glasses to really wow your fashion maniac, check out these Prada PR15TV sunnies. The frame is lightweight for all day wear, features trendy double bridge and guarantee Italian quality and magnificent style. Who said that only devil can wear Prada, right?
For the fashion conscious man with a good knowledge of the latest trends your gift-hunting might need some skill. Have you heard about Ray-Ban Blaze collection? It's something you should really take a closer look at! Ray-Ban Blaze Clubmaster is a pure innovation which offers a clean-cut, contemporary take on iconic clubmaster shape and we bet your man wants to have them in all 6 available colors! If he prioritises fashion over functionality when it comes to eye glasses, offer him a compromise. Persol PO3143V from Calligraphy Edition offers both. This special collection makes use of extraordinary color combination that doesn't deserve to be worn by faint-hearted and needs a pinch of courage.
GIVE THE TIMELESS
Vintage, timeless, old-school - call it whatever you like, some people simply love to travel in time! If the woman of your life loves vintage fashion, you'd rather not buy her some super cool flashy aviator sunnies. Look at these gorgeous Dolce&Gabbana DG4270 with their floral print, aren't they lovely? Fantastic gift for Valentine's day. Looking for prescriptions instead? Don't worry, we are not leaving you here. These Ray-Ban RX7026 look like from an old American movie and your girl must love them for sure! They come in 8 colors but our favourite is definitely pink with golden details on the bridge and temples.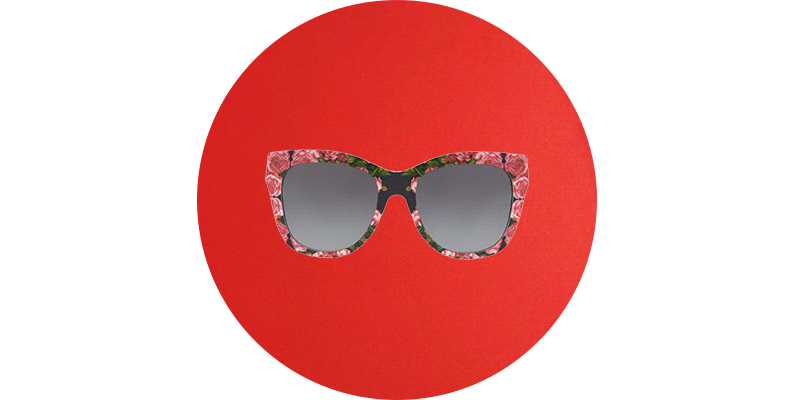 If your guy likes to dig into retro fashion and knows how to define a word 'vintage', there's no point in giving him anything but Persol PO9649S sunglasses. These shades are part of Persol's Vintage Celebration Special Edition which has a vintage appeal and offers stylistic perfection and quality Persol is famously known for. Our vintage Valentine's pick for your glasses wearer are definitely these Dolce&Gabbana DG3270 specs. With their old-school clubmaster frame look, interesting combination of neutral grey and brown color and the finest materials, your valentine will look like a businessman from 1960s.
Love is in the air and designer eyewear is a fantastic gift for someone you love! Check out full version of our Valentine's Day Gift Guide for more inspiration here and choose your favourite piece from our carefully handpicked Valentine's Day collection. With love, eyerim