If you are about to purchase a new pair of Ray-Ban sunglasses or you have already purchased one online, make sure you spend your money wisely. Following this bunch of rules, you will become an expert and spot fake Ray-Bans at first glance!
1 Quality
Hold your Ray-Ban glasses and look at them closely. Do they have some weight to them? Are they solid enough? All genuine Ray-Ban products are manufactured from high-quality materials, they are durable and cut from single-piece acetate. When it comes to Ray-Ban lenses, most of the models use superior glass. Although if you come across some other material, stay calm, most probably it's a newer design - these don't use glass lenses exclusively.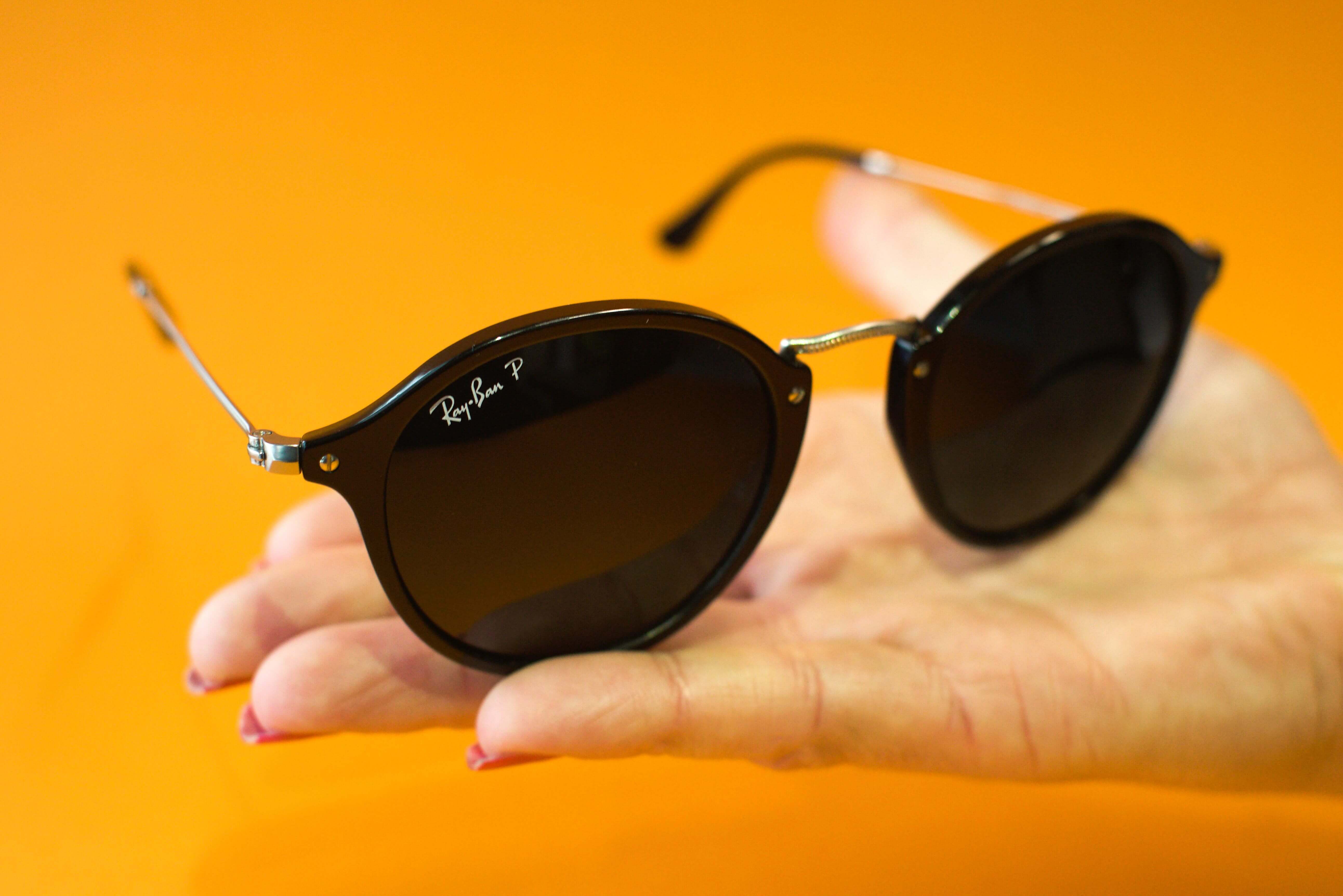 2 Origin
All Ray-Ban products are made in Italy. Right? Well, surprisingly not all of them. People tend to believe that 'Made in China' sign that pops out with regards to Ray-Ban brand is an ultimate indicator of fakeness. However, Luxottica, Ray-Ban manufacturer, has its factories both in China and Italy. Although the majority of production is based in Italy, a few models are still manufactured in China exclusively, or in both Italian and Chinese factories. There is, however, no doubts that quality standards remain the same.
3 Content
Now for the content. All Ray-Ban sunglasses come with iconic packaging you should be aware of.
Paper box: SIlver, shiny paper box with Ray-Ban logo on it. If you check the side, there should be a label with barcodes on - proof of a reputable retailer.
Case: Ray-Ban produces different cases for different models, however, the majority of them feels and resembles real leather. Each Ray-Ban case should also have a shiny golden or black seal on the front left side saying '100% UV Protection - Ray-Ban - Sunglasses By Luxottica'. Being an exception, when it comes to Ray-Ban Junior products, these may also come in a coloured textile pouch.
Cleaning cloth: Don't forget about branded Ray-Ban cleaning cloth - always made of high-quality material and including a logo that fakes often miss.
Booklet: There are quite a few guides that write about authenticity or warranty certificate. The truth is that it doesn't exist. Ray-Ban packaging always includes a small booklet that contains promotional images, product characteristics and rules that sum up how to take care of your glasses. This booklet, however, is not an authenticity certificate. Either way, always be careful about any sort of spelling or factual errors inside of this booklet - there should be none.
4 Ray-Ban logo
There are several spots on a genuine Ray-Ban product that should include Ray-Ban logo. As you can see in this eyerim unboxing video below, the classic legendary Ray-Ban logo is always nice and visible on the lenses.
Lenses: Majority of Ray-Ban products include an 'RB' etched onto the left lens right next to the hinge. If you own polarized version, 'Ray-Ban P' should be engraved in the top corner of the right lens, as well. If "P" is missing be cautious, your sunglasses are either not polarized, or authentic.
Ray-Ban products also include a high-quality sticker with Ray-Ban logo that sticks to the lens by static. Any signs of glue under the sticker may indicate fake.
Nose pads: Metal Ray-Ban sunglasses usually have these transparent nose pads that sit on your nose. Again, you can spot 'RB' letter combination embossed into their centre.
5 Temples
When you check temples carefully, they should include some information about your product right on the inside left temple arm - model number and size details. Some models such as Ray-Ban Wayfarer, or Ray-Ban Justin also have a 'Ray-Ban' badge attached to the temple. Check the badge, it should be small and attached with pins, rather than glued.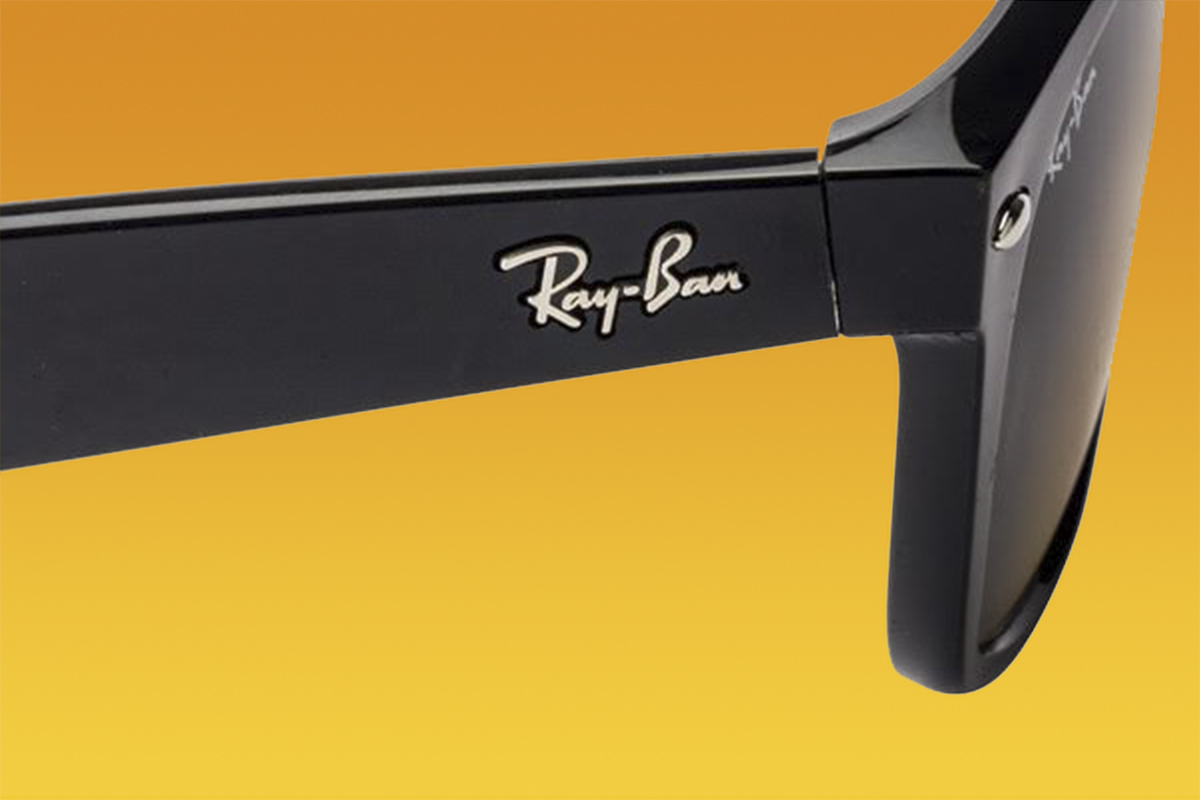 At first, buying fake sunglasses might seem like a good deal. However, at the end of the day, this is not quite true. Less quality, poor materials - there are several reasons why fake sunglasses should be unappealing to you. Always be careful and take good care of your eyes. And never regret investing your money to a good-quality piece of eyewear - they are worth every penny, seriously! Check out Ray-Ban collection on eyerim e-shop now and find your favourite piece.