Roots of Italian brand Fendi are in Rome, 1925. Fendi is a luxury brand of fashion and leather goods, also producing fashionable eyewear. Fendi is the last name of the founders, married Adele and Edoardo. By the way, did you know that logo Fendi was made by Karl Lagerfeld? (that time a young German caricaturist living in Paris). After decades on the fashion market, the first Fendi sunglasses were born in late 1980.
Fendi sunglasses are not afraid to stand out of the crowd. Easily recognizable, from bold and extravagant frames to elegant and timeless models. They will definitely grab your attention. But how to distinguish, which ones are authentic and counterfeit? Keep on reading.
PACKAGE
Latest Fendi sunglasses come in branded retail box. The logo and font must match with the one used by Fendi. Some older models may vary in style and colour.
Real Fendi sunglasses come with a certificate of authenticity and warranty inside of the packaging. This certificate should come in an envelope, as a card. One side of the card is with the Fendi logo. Wrong spacing and alignment is a sign of the fake glasses. The other side of the card is with Fendi hologram. This hologram has to switch from dark to light colours of tiny Fendi logos around.
The case must feature the logo (of course matching with all logos in package and on the eyewear). Don't forget to take a look at stitching, that must be precise and even.
Each package includes cleaning cloth with a matching Fendi logo.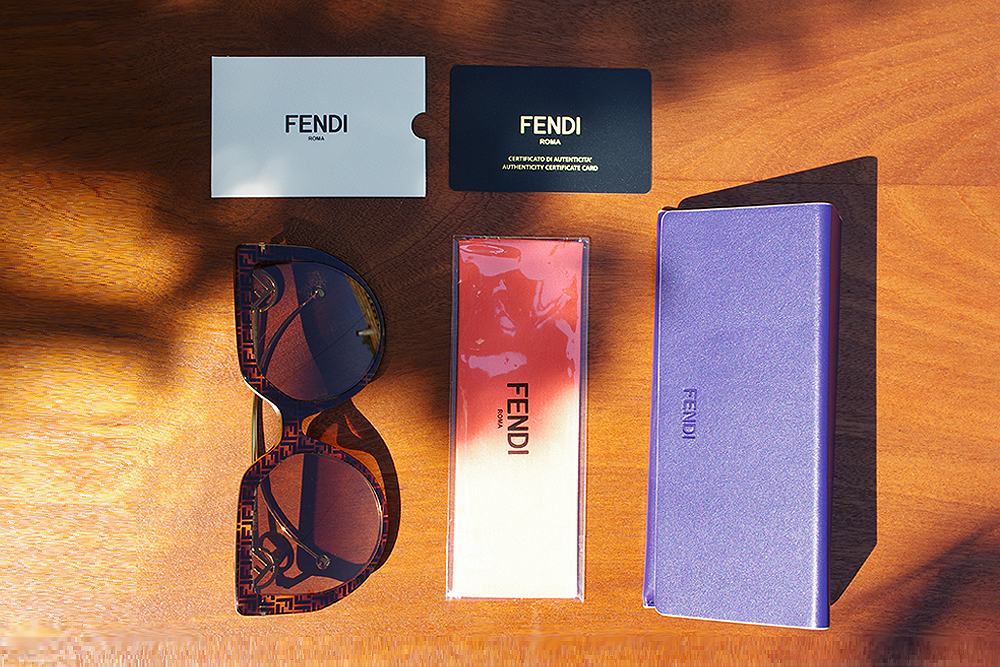 NAME & LABEL
Look at the inner parts of sunglasses - check the spelling of Fendi and check if there is "Made in Italy". All authentic Fendi's should have CE letters on the right temple arm (for European Conformity). At the outer part of temples must be the name Fendi in capital letters.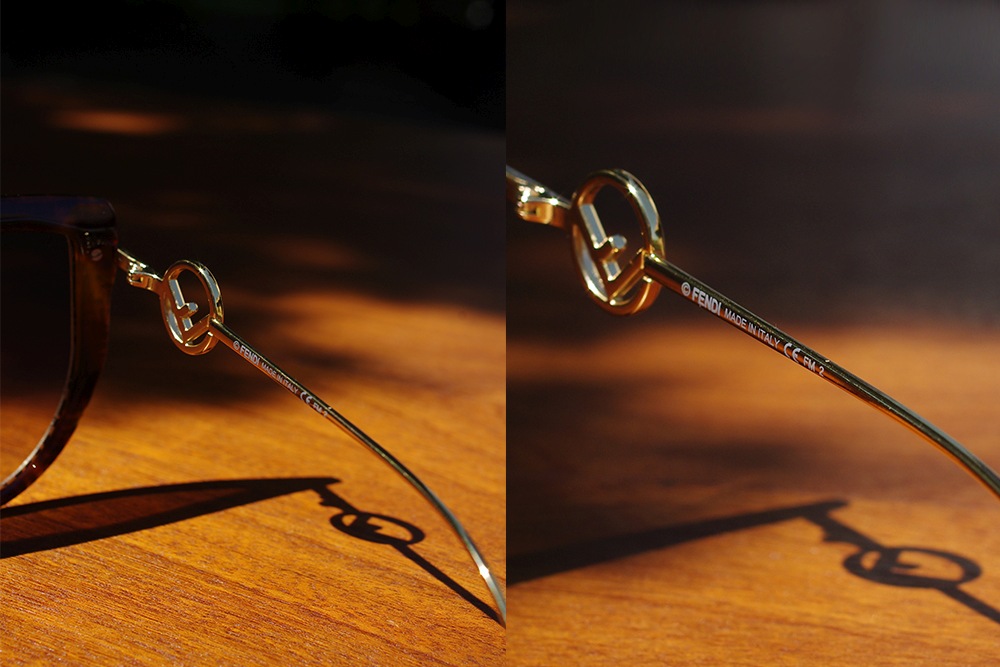 Next step is to check the nose pads. If your glasses have nose pads, they must have engraved the Fendi logo on the metal piece in the middle.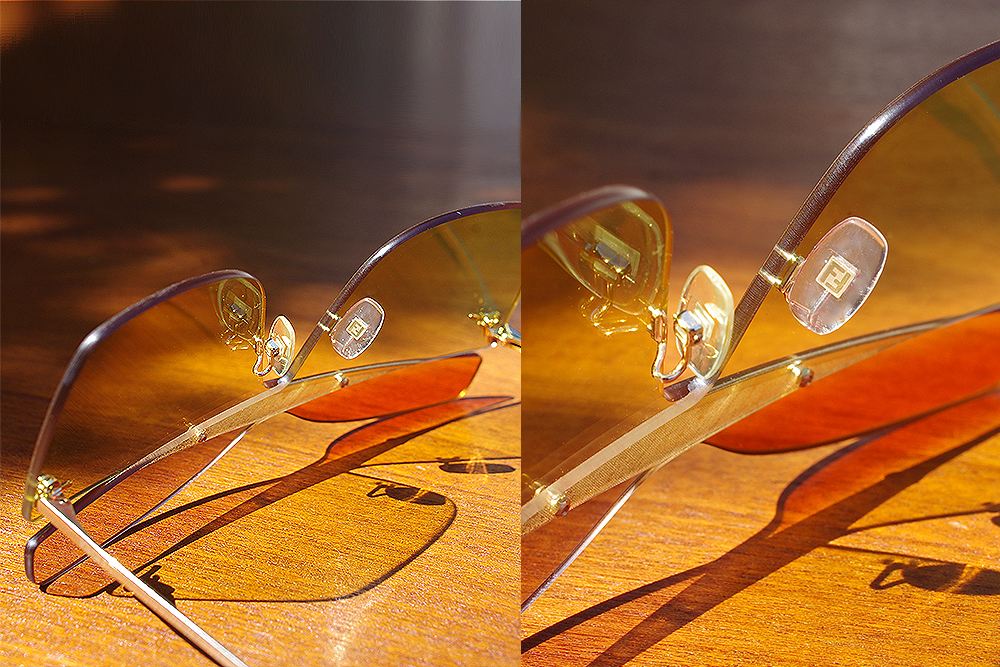 MODEL NUMBER
On the left temple arm must be a model number, starting with a letter F. Model number consists of lens and frame measurement.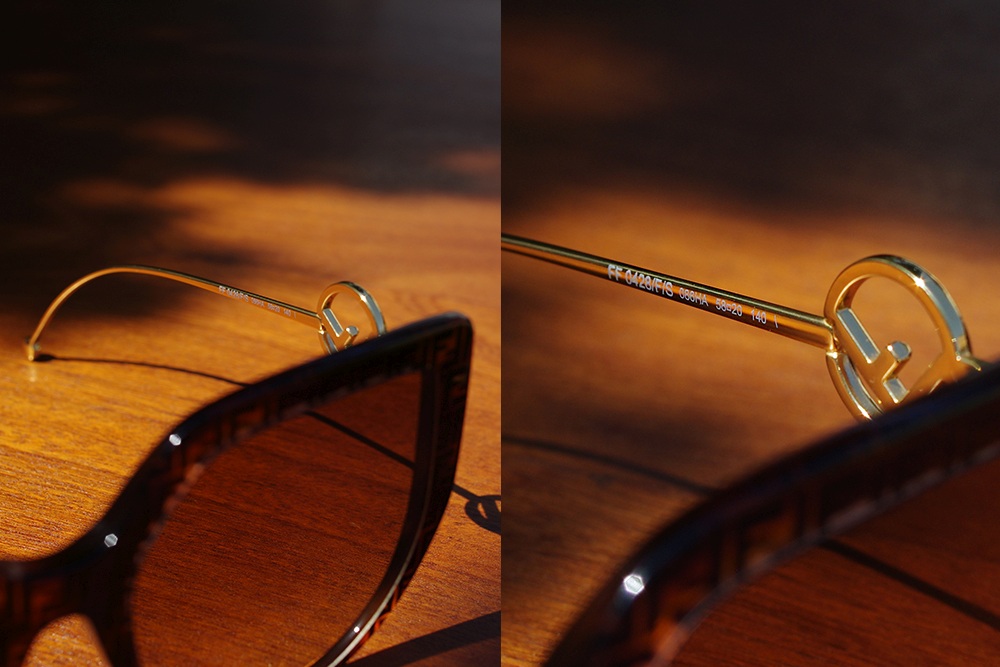 WEIGHT & HINGES
The original Fendi glasses are made of lightweight materials, so they should be lighter than fake, as they are made of e.g. classic plastic. The last check is focused on hinges - counterfeits are not made from metal and have screws attaching them to the frame. Check their movement - it should be easy and smooth, without getting stuck. If not, you probably have fake Fendi glasses.
Please note that this guideline doesn't guarantee authenticity and Fendi may make any changes to their manufacturing processes. We will, however, always make sure to update our guidelines with any changes coming to keep you posted! eyerim is an authorized partner of Luxottica & Safilo, so you don't have to worry about the authenticity of all products. Check our Fendi collection on eyerim eshop and try some via Magic Mirror.