The sizing, the materials, the sturdiness, the lenses… it's all so confusing even when you looking for glasses for yourself, isn't it? Even more so when you're on a hunt for some corrective eyewear for your cute little offspring. But no more chaos when eyewear shopping! We have awesome, quick tips on how you to buy kids glasses with no difficulty. And, the modern way.
1. Glasses should be the right fit and of long-lasting quality.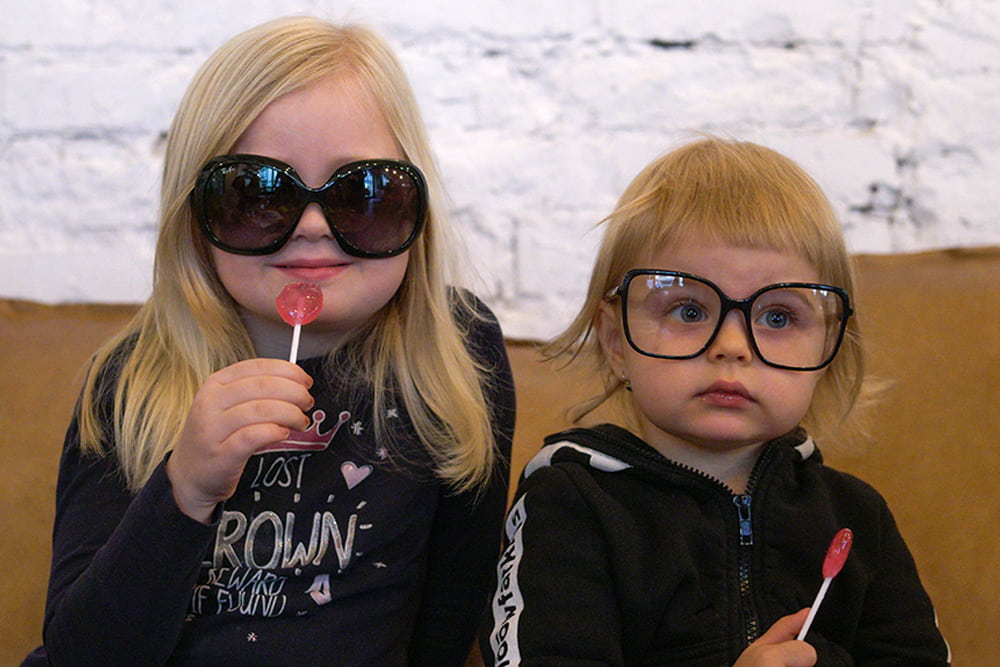 When you google "how to buy prescription glasses for a child," every one of the articles tells you to "avoid buying glasses online". We beg to differ in this case. This statement might have been true couple of years ago, but dragging your child into eyewear shops or an optician in 2019 is just silly. It's such a bother to go there for us adults, imagine how annoying it must be for your child!
How to choose the right prescription glasses for your child online?
All you need is a prescription receipt from your child's eye doctor, where you can find all of these numbers:
- Sphere
- Cylinder (if even the slightest astigmatism is present)
- Axis
- Pupillary Distance
If the PD measurement is missing from your prescription receipt, you can measure it easily at home! All you need is a measurement-tape or a ruler.
Next steps:
1. Put one end of the measuring device under/ next/ above the right eye, precisely next to the pupil, and put the other end to the left eye.
2. Take the measurement and divide it by 2. Let's say the PD measurement of your child was 30cm. That means that the PD of the right eye is 15 cm and of the left eye 15 cm. Easy!

Pro tip: If the eyes of your offspring are excitingly travelling around the room and it's quite impossible to measure the PD, make it fun! A game or a fun, interesting picture should help. Staring contest with an amazing prize for the winner would be our best tip, but oh well what do we know, not many of us are parents at eyerim. Whoopsie.
How to choose the right

size

of eyewear for your child?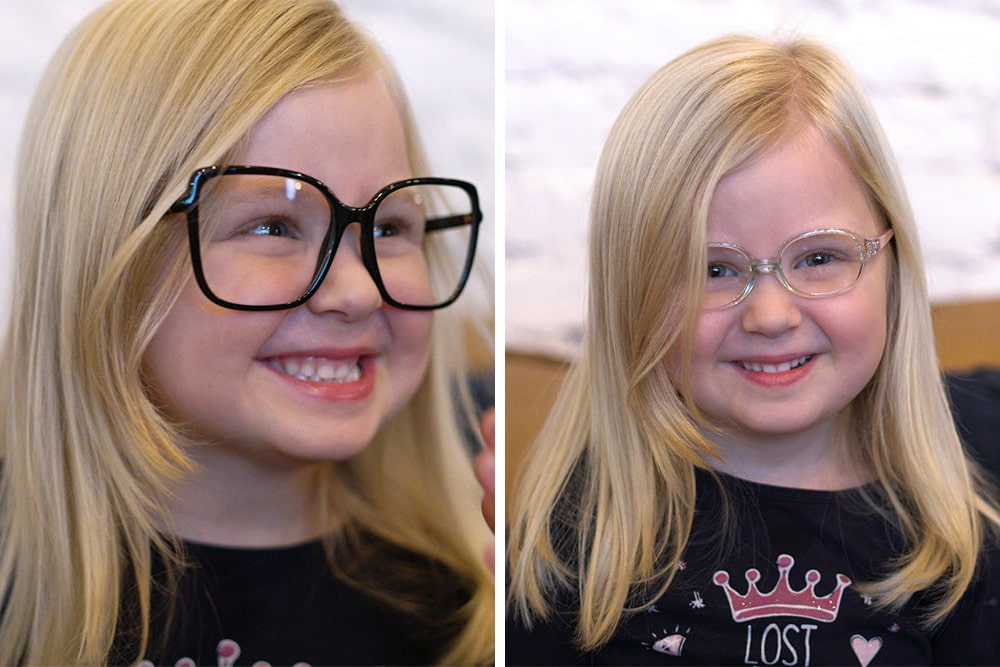 All depends on your child's age. For those under age 2, there are usually special frames made of durable materials, small sizes and often have "bands" that wrap around the child's head to keep them on.
Finding the right size for your offspring is just as easy as find them a hat in the correct size. If they tend to have bigger size in hats, it'll be very similar with their glasses, and vice versa. Children's glasses have an average lens width of 44 to 48 mm, with a temple length of circa 125 mm. Generally, kid's eyewear sizes fit kids between 4 and 10 years old well.
What's the right material for the glasses?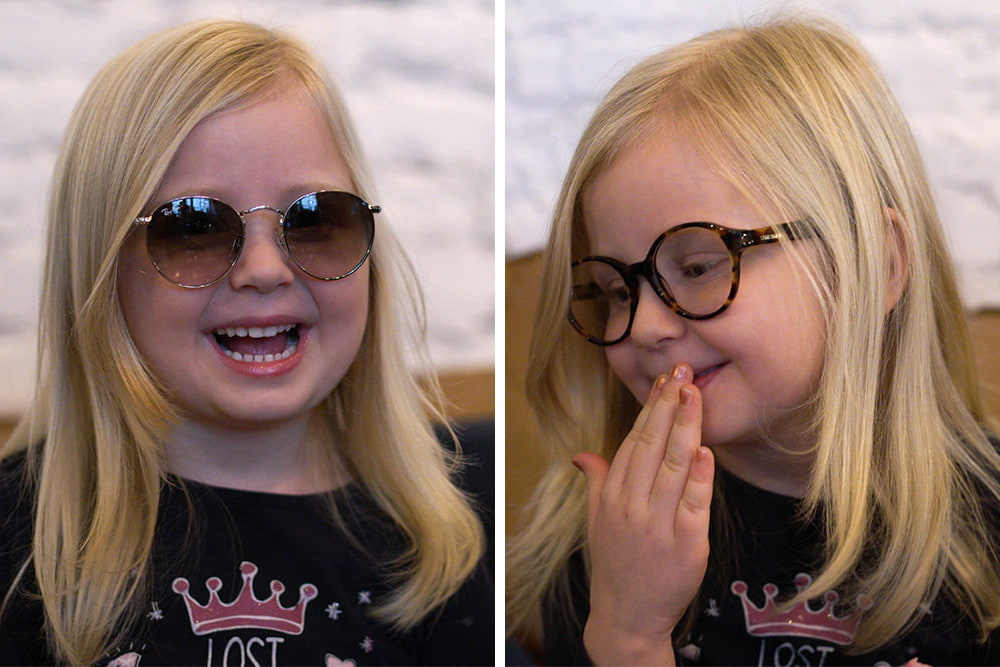 We all know that kids do not care in the slightest about how expensive and breakable some things are. That's why you should ensure that the glasses you're purchasing are made of study materials. Acetate, steel or metal materials are a great choice when looking for a strong, durable material! And don't forget about spring hinges - the glasses will fit better and will adapt to a growing face.
Choosing kids sunglasses off eyerim e-shop is, on the other hand, very easy. Choose some sunglasses in the kid's collection, get them home, let your kid try them out and if they don't fit, send them back to us and order a different size or a different model. And if they do fit, you're golden.
2. Make wearing glasses and taking care of them FUN.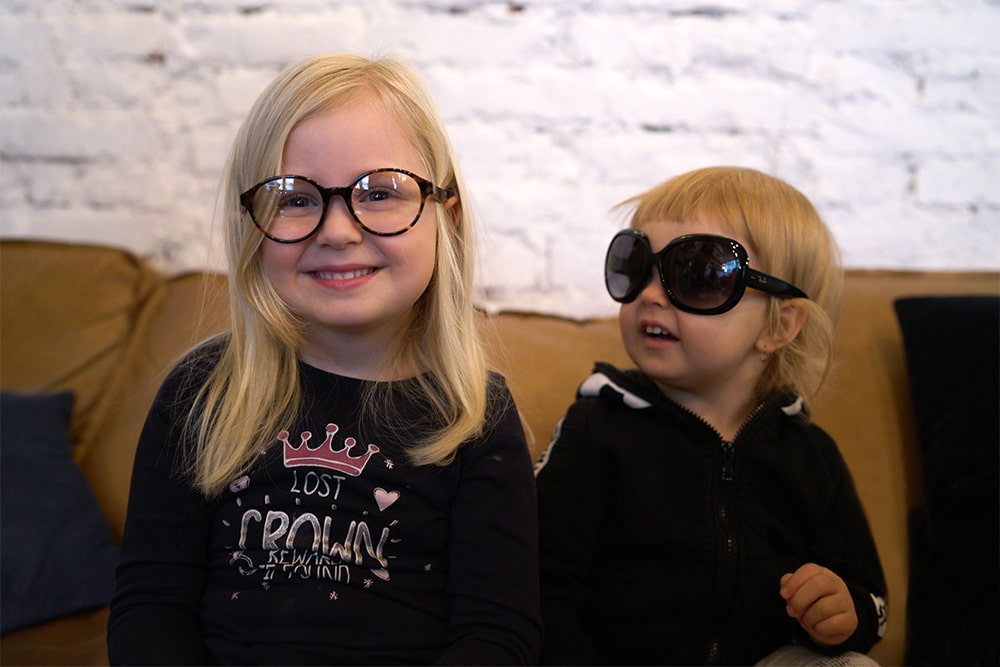 We'll put it simply: let your children pick the frames or sunglasses for themselves. (if they're old enough, ofc.) If they love the piece, it will be so much easier for them to wear them! If you are wearing prescription glasses on a daily basis, or sunglasses in the sun, that will make it even easier to wear the glasses for them - you are the one that they're constantly looking up to, after all. And you can even match! There are many models that look exactly the same in the women's/men's and kids section in the eyerim e-shop! Like these prescription glasses frames and these kids ones; or these sunglasses and these sunglasses for kids.
Let's be honest though, taking care and cleaning the glasses will become an everyday task. But when is the importance of sunglasses and especially prescription glasses accurately explained, it shouldn't be that difficult to carry on. The glasses either need to be on your child's face or in the case - simple as that! (At least we hope so.)
3. Do not forget the importance of a regular yearly exam.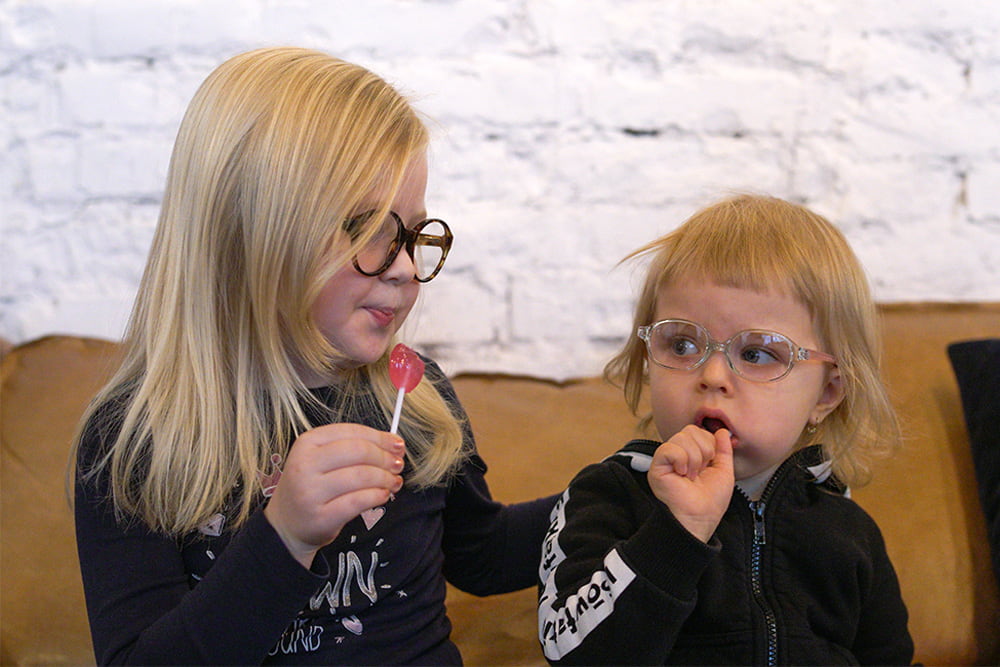 If the sight of your little one is not 100%, seeing a child eye doctor annually is a must. Not only their sight might've gotten worse over the period of 12 months, but their prescription glasses might also need an update.
Update your glasses on eyerim, it's even easier now…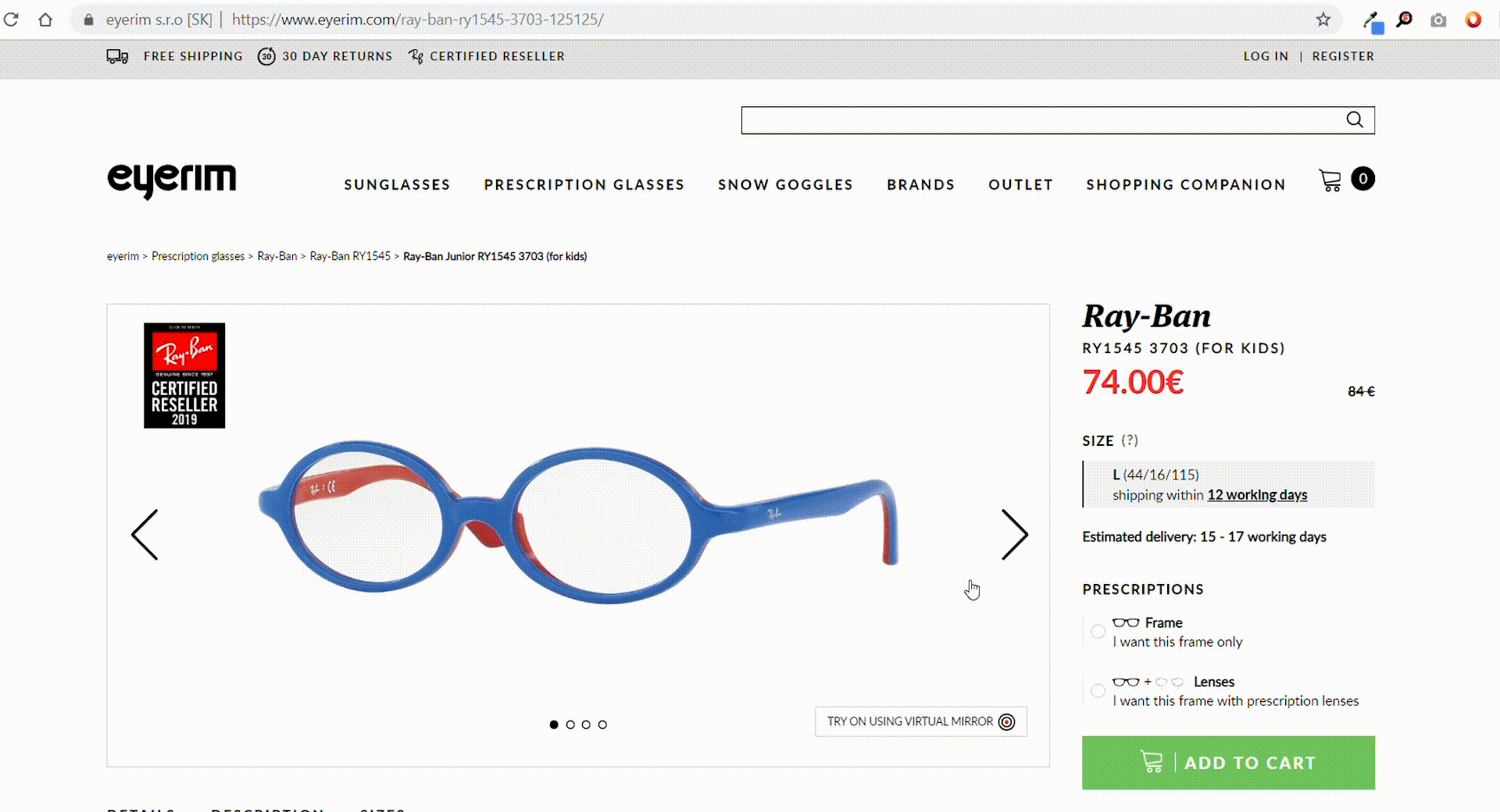 We have new prescription check-out! We are continuously working on making it better and less time-consuming for you.
Let's conclude this piece on an honest note - we are clearly no pros in parental advice. But what we do know is how to make everyday things fun and enjoyable, even when they're not going according to the plan. It's the same with kids, isn't it? (Of course, it isn't.) And trust us when we say that buying prescription glasses for your offspring online is the same as buying them for yourself. Easy! It's 2019, ladies and gentlemen. The best time to enjoy your time with the loved ones, chilling and having fun; rather than spending it deliriously searching for the right glasses for your child in brick and mortar eyewear stores. eyerim's here for you. Always.