The people working at eyerim are not only smart, hard-working, badass and fun. They are also incredibly stylish. We therefore made them pick their favorite style of sunglasses for summer 2018 and pose for a picture. Not all of them were excited about posing but they all did outrageously wonderful job! Along with our phenomenal photographer Patrik. Just scroll and enjoy.
STYLES OF THE SEASON
Are you looking for the perfect style of the season? Here are the first four trends, done perfectly by our lovely Maria, Branislav, Patricia and one more Branislav.
Feminine Single Lens Shades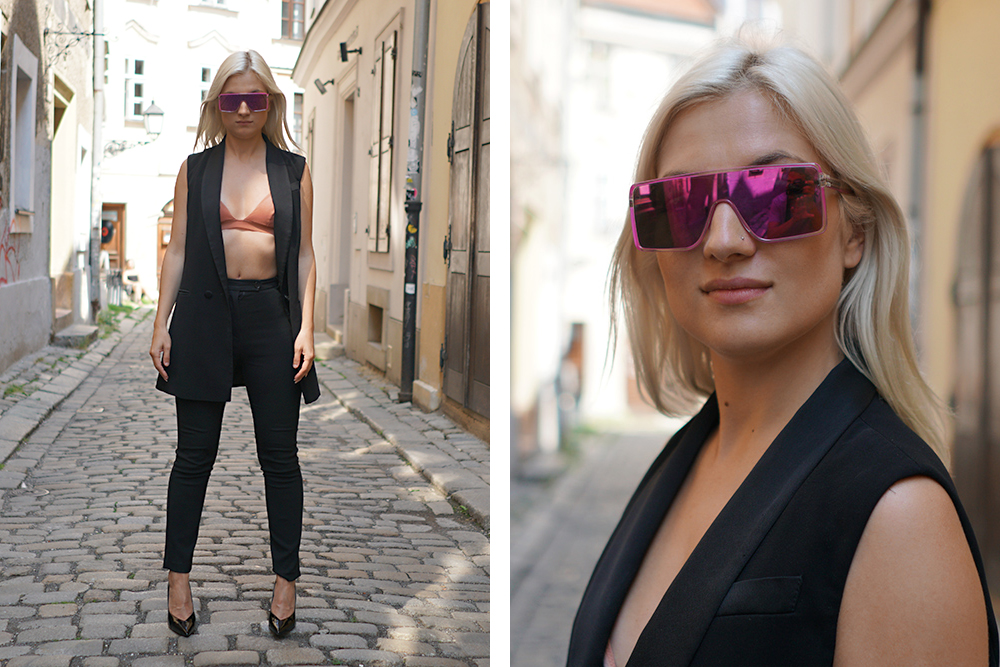 Maria is a fashion goddess. Her style is bold, tasteful and sexy. She chose the Marc Jacobs Single Lens sunglasses with daring, but business-woman-like outfit. And let me tell you, one business woman she is! Why these shades though? She said: "I love these shades because you can accessorize any elegant or sporty outfit with them without needing any more accessories." Dreamy!
Transparent Blue Sunglasses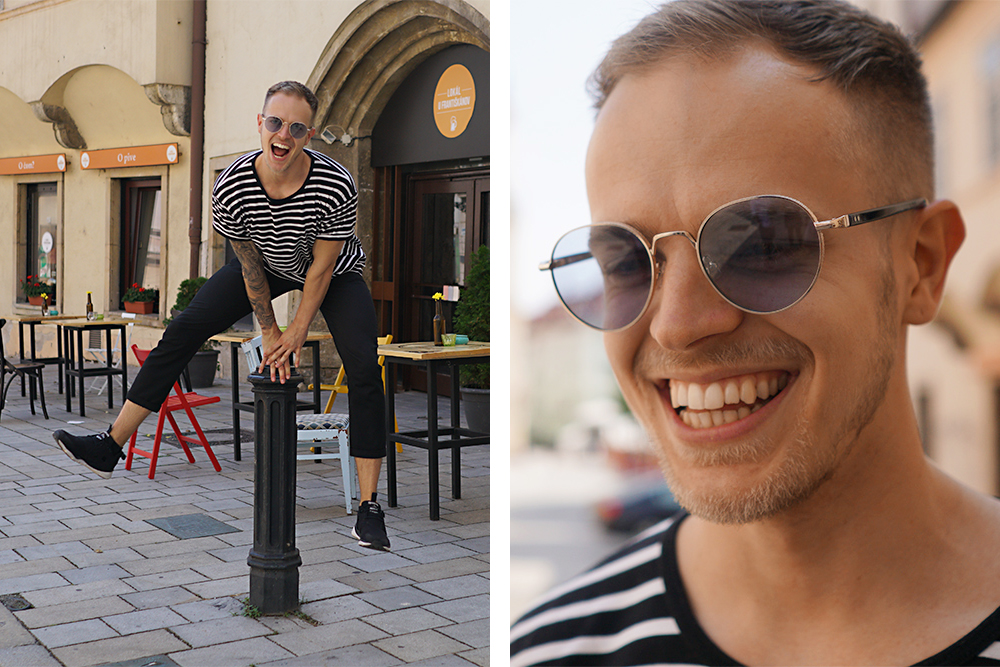 Having a favorites is wildly frowned upon but what a fun, nonchalant picture! Although Branislav does not enjoy being in front of a camera, pictures of him always look so breezy. On the other hand, what he thoroughly enjoys is 35/139 Tokyo brand and their amazing sunglasses. "This model of 35/139 Tokyo is simple and sturdy and that is why I picked it. These shades are literally unbreakable, so perfect for any unexpected activity." Obviously!
Eccentric Rectangular Shades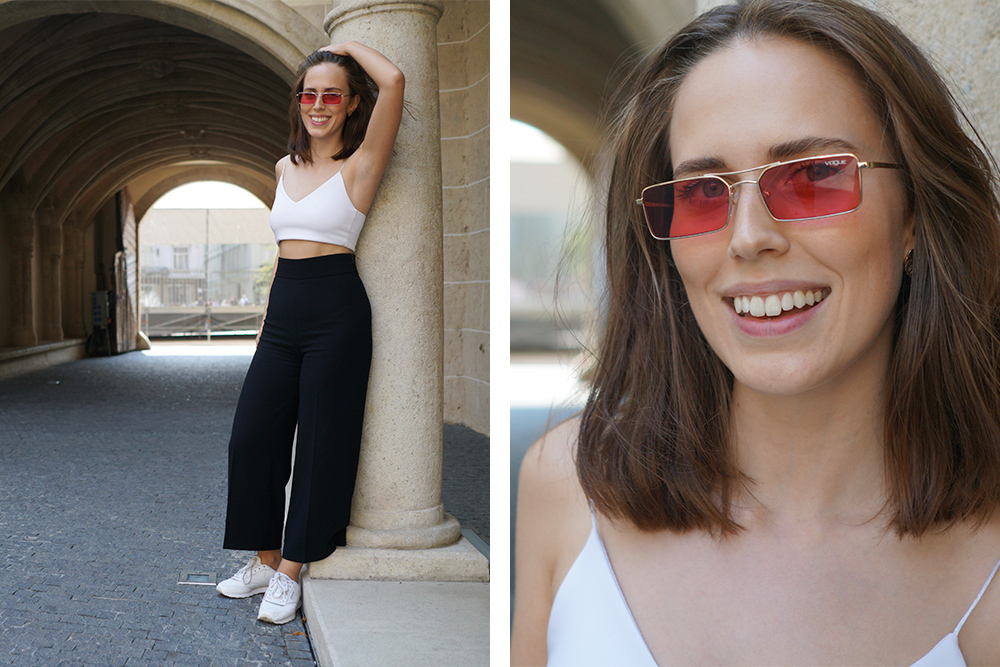 How pink and compelling are these Vogue sunglasses, right? Patricia chose simple black and white; casual and elegant outfit, added those pink and gold shades and the outcome is noteworthy! "Vogue by Gigi Hadid sunglasses collection is sleek, simple and incredibly stylish. These shades were my number one choice because I wanted to try something different, something a bit bizarre and wild in a sense. And they fitted my requirements flawlessly." And we have to admit, boldness really looks good on everyone.
Neat Aviator Sunglasses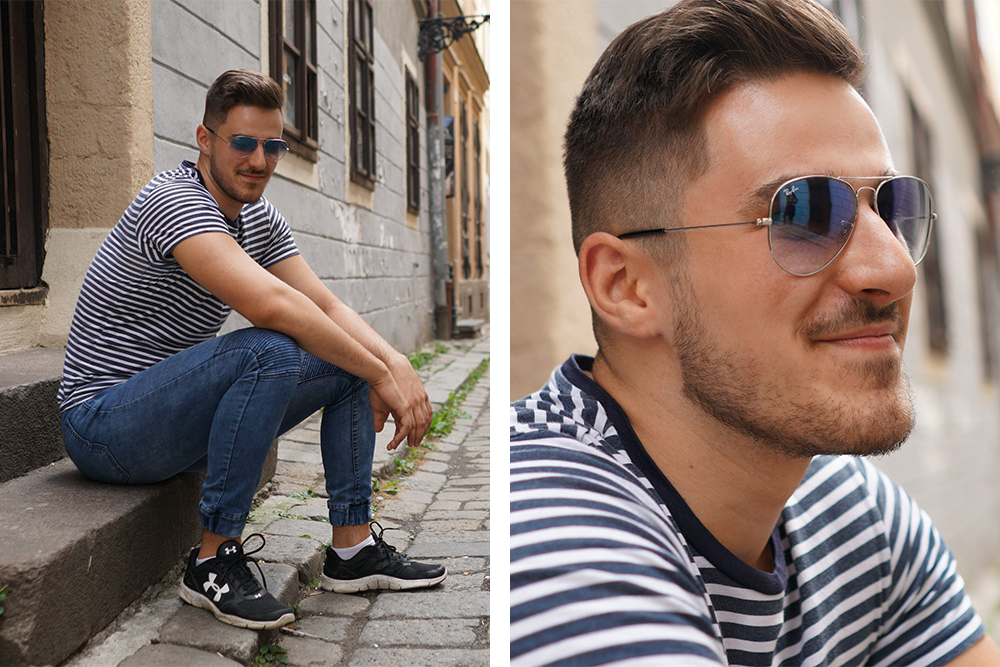 This is Branislav. Another one. He is also wearing stripy t-shirt, comfy black and white sneakers and blue sunglasses. Did they arrange this strangely flawless coordination? Guess we will never know. Blue Ray-Ban aviator sunglasses look on point on Branislav though! He looks like a cool, american police officer who came to save you from all the bad guys. He told us: "Aviator style of sunglasses is eternal! It is the only original out there - Ray-Ban. They will never be compensated." What a wise (and strong) man he is!
COLOURS OF THE SEASON
There is no such thing as too much colour! What are the best colours of this summer, set by our colleagues? Check them out, they all look fabulous!
Multicoloured Oversized Sunglasses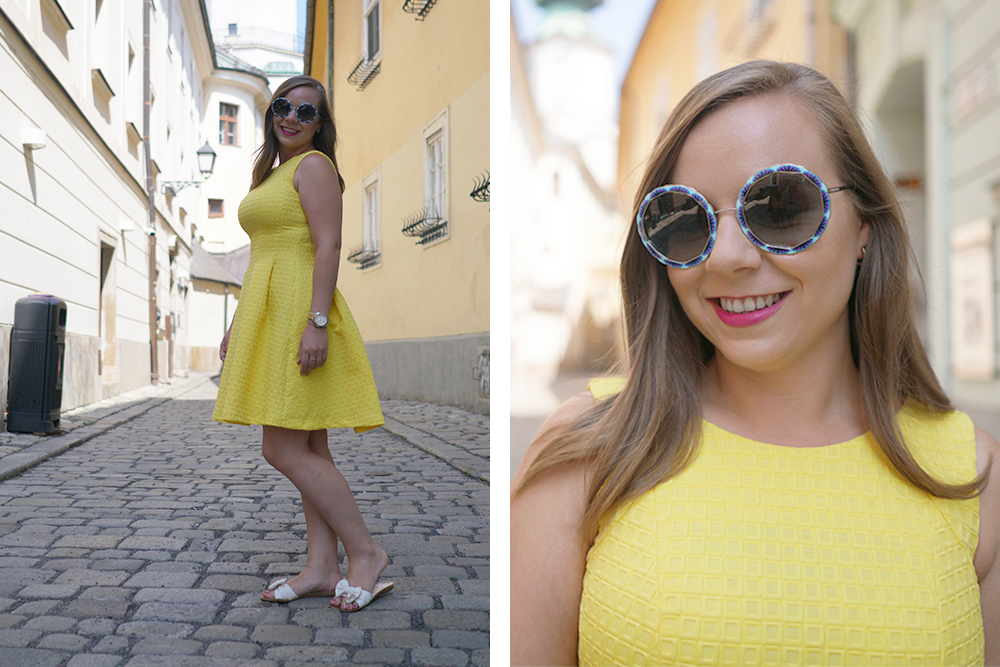 Wera is our sunshine. Quite literally! Just by looking at these pictures you will be happier! She opted for simple, girly yellow dress and big round colourful Emporio Armani sunglasses. Answering my question why she picked this particular model, she simply replied: "Round shape makes these sunglasses seem a bit retro. When I tried them for the first time it felt like big happy celebration of life. They are gleeful, colourful, playful - just like me." We agree on every point, they are just like you are!
Funky Blue Shades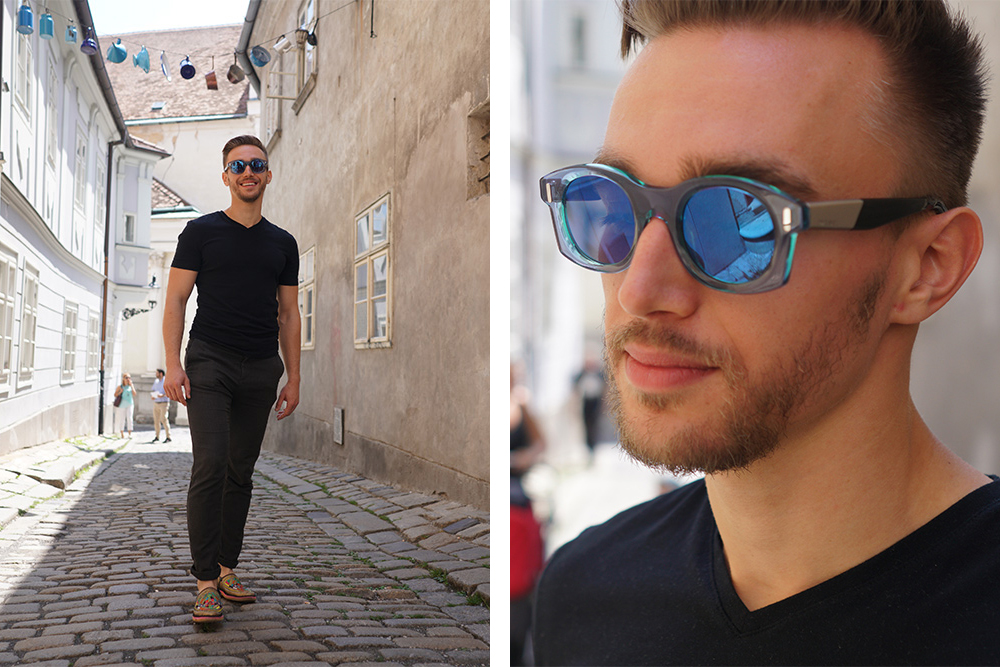 We love big statement sunglasses! Martin chose these Diesel ones and they look insane. A bit futuristic, daring, adding a dash of colour to any outfit. Why is this Martin's pick? Being a person whose entire live revolves around sunglasses, I was looking for something more eye-catching this summer. In Diesel I have found the perfect combination of eccentricity and sophistication. The amazing blue coloring of both transparent frame and lenses, which is trendy this summer, is a nice bonus on top." We think you look precisely flamboyant, good job!
White Cat-eye Sunglasses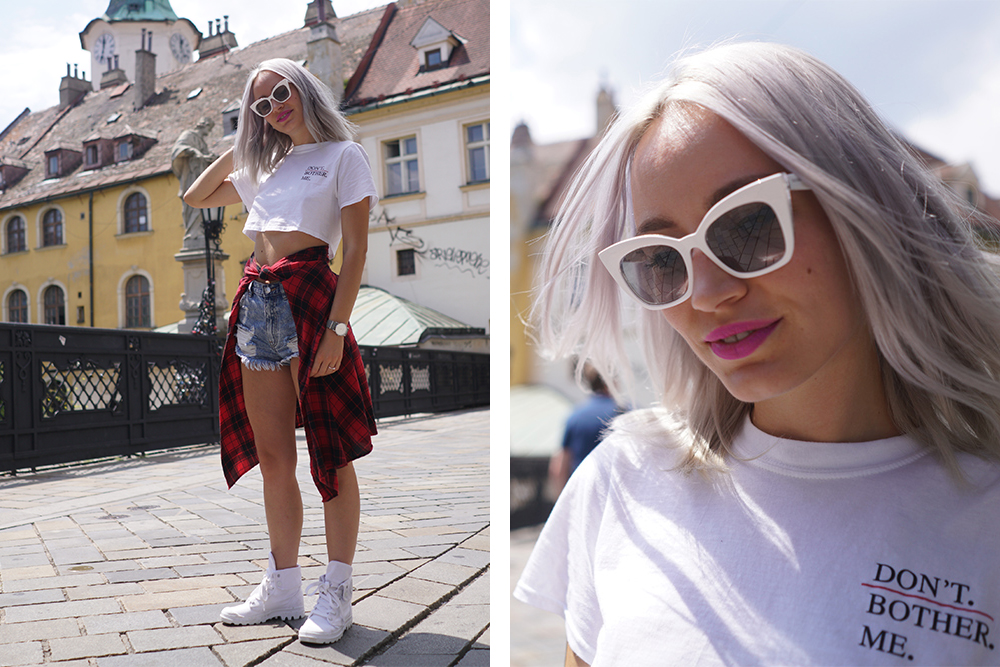 "Cat-eye shades will quite possibly never bore me - they are classy and feminine; provocative and cheeky, all at the same time." Andrea chose dainty white Max&Co.sunglasses with casual, summer outfit. Perfect combo, isn't it? Although we must confirm - she looks rather lovely in everything!
Orange Clubmaster Blaze Shades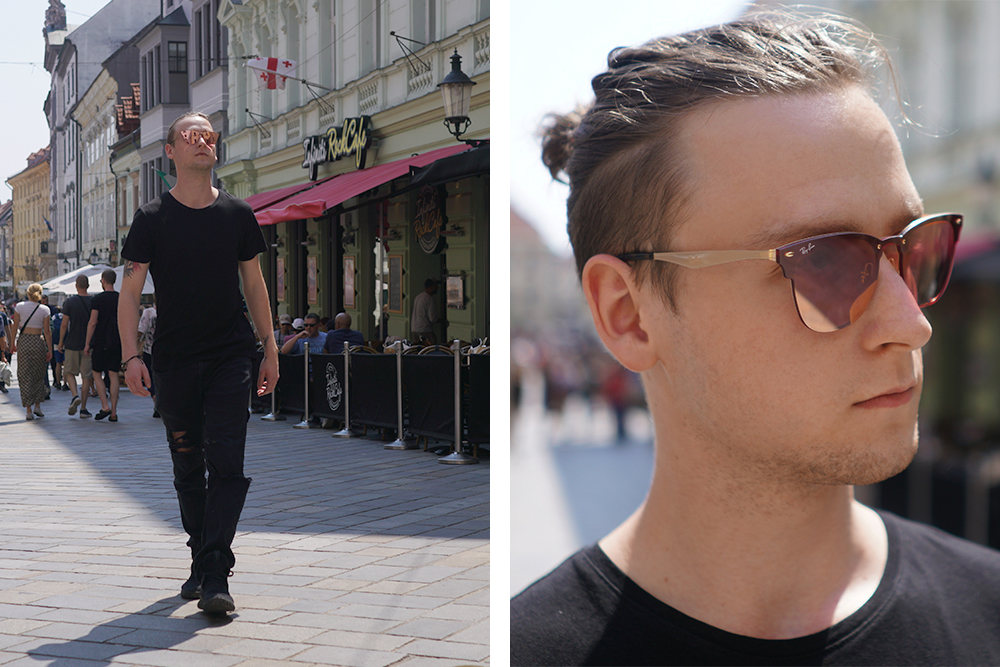 Wondering how to spice up your black-on-black outfits? Jaro gives you the perfect example now! (And to all of us at eyerim on daily basis.) Why these orange Ray-Ban Clubmaster Blaze sunglasses though? "Because even the biggest Metal Head needs a little swag into his black old life. We want to show our fashion spirit, too. #MakeSwagGreatAgain." Amen, brother.
SHAPES OF THE SEASON
Round, rectangular or frameless, no matter the preference, the most popular frame shapes of this season are simply stunning! Have a look!
Simple Squared Shades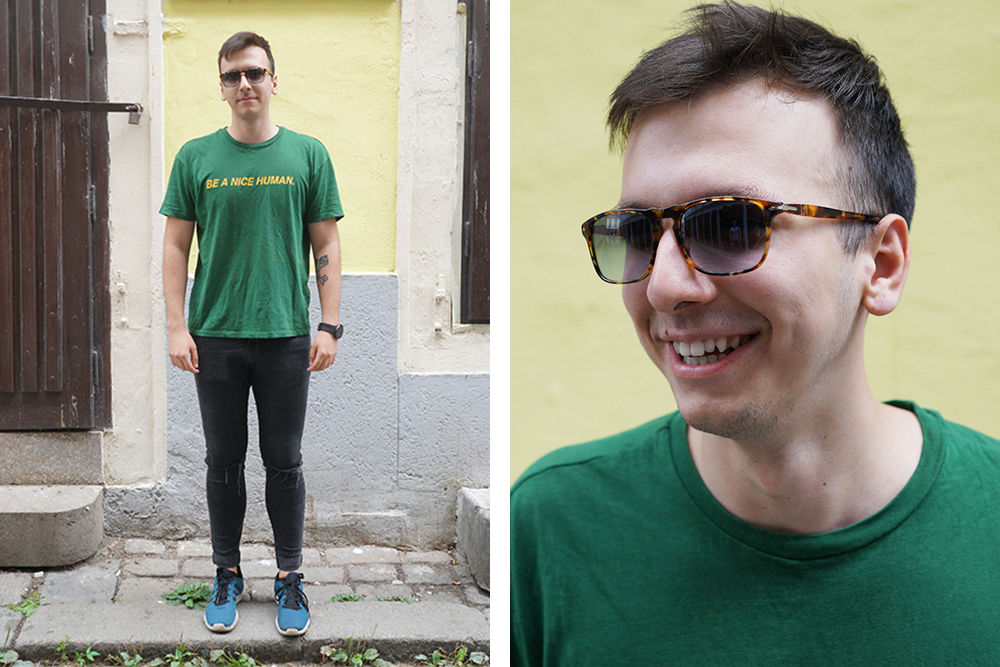 "These sunglasses are a basic addition to the closet of every nice human (or wherever you keep your shades). They fit well and look good." Our Slavo certainly is a nice human; very nice human indeed with nice Persol sunglasses! You can definitely style these shades with anything. No matter the occasion or the style, you will look dashing all the time.
Silver Aviator Sunglasses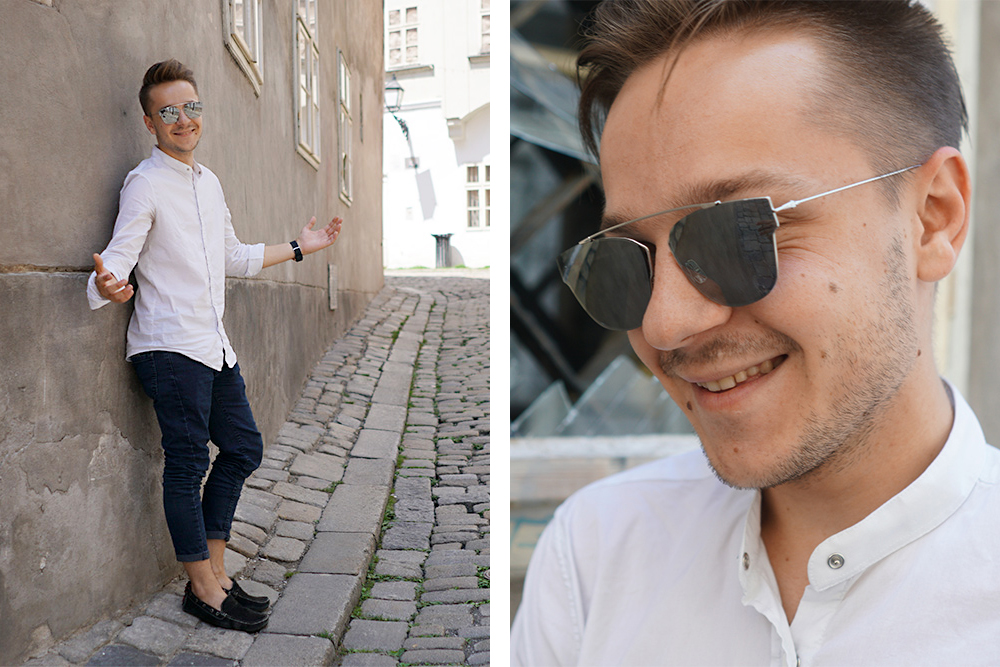 Daniel is the one person full of positive energy literally on daily basis. He enjoys every moment to the fullest and loves simple but eye-catching style. He picked the Dior Homme aviator sunglasses, added a simple white shirt and blue trousers and voilà - what a stud! "Dior Homme sunglasses are combining technical abilities, innovation and elegance." said Daniel and let us just confirm: What a smooth talker is he!
Classic Round Shades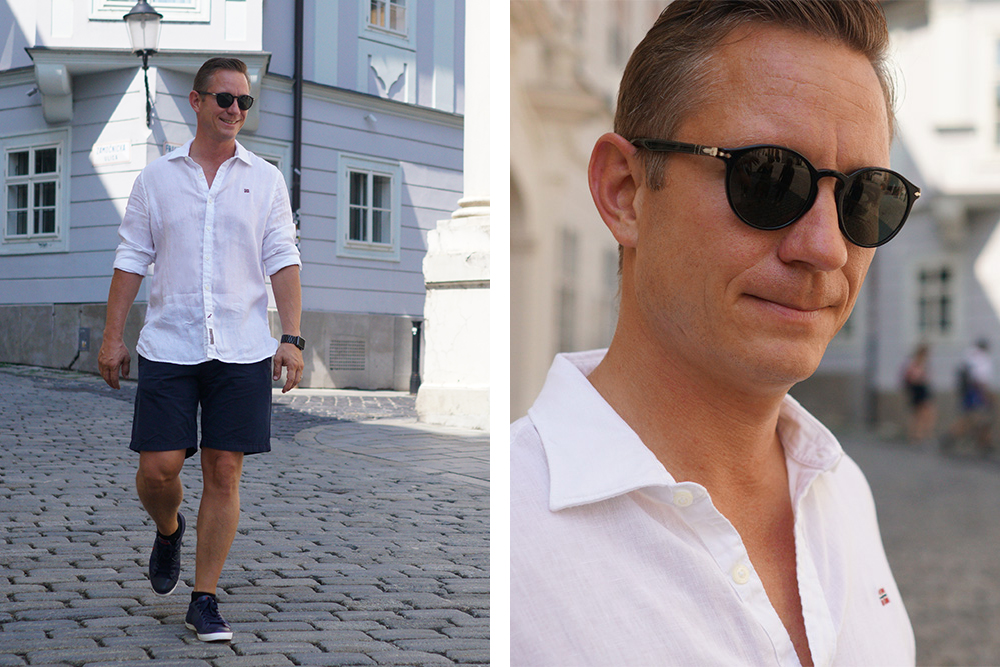 Is this Daniel Craig, the agent 007 actor or possibly his brother? No? Distant relative then? Jan denies it all but we believe Daniel would wish to be his brother! That is to say, Jan is the eyerim finance hero. Our hero. Hence the heroic shades he is wearing! "I am a big fan of high-class, but well-prized sunglasses. Italian Persol sunglasses are my first choice and when they are black, I could not be more content," Jan told us and we could not agree more.
Dainty Wayfarer Sunglasses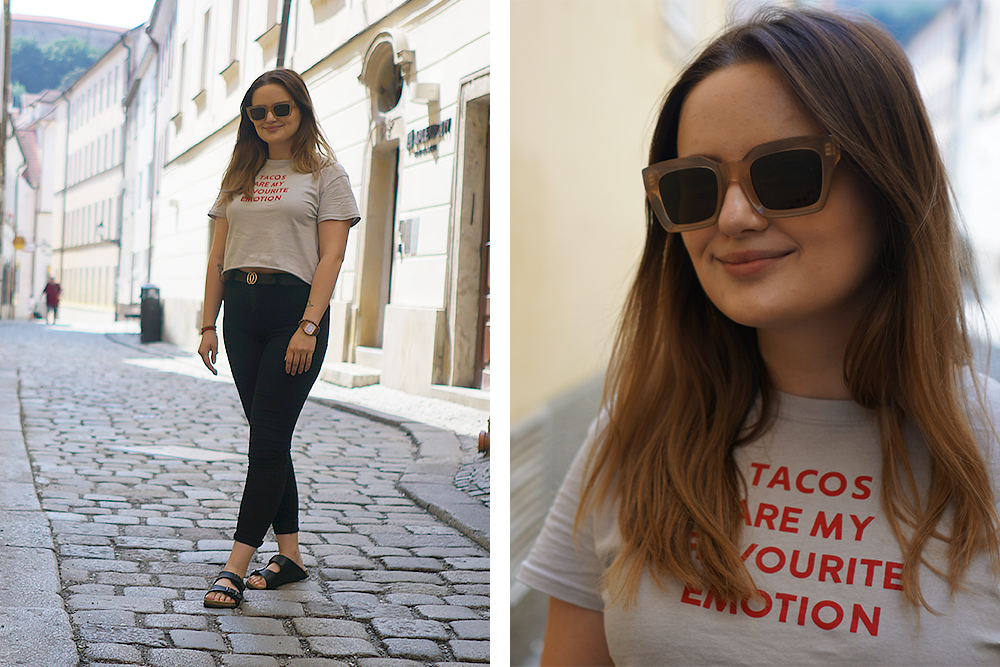 "As Marylin Monroe once said: "I just want to be wonderful" - a that is exactly the feeling that these sunglasses will provide to every woman." Beautifully said, Alica! She opted for comfy outfit - she is working the whole day after all - with an incredible statement tee, high waisted jeans and amazing squared sunglasses. Well, isn't she, in fact, wonderful?
All different, but all exceptional. That is exactly what the people working at eyerim are like! Yes, we fight sometimes; we are stubborn and not in the greatest mood every single day, but we can help each other no matter what - just like in this case. Not everyone was thrilled to be photographed, posing is not everyone's thing after all. But they all did it! And that generosity is what makes eyerim whole. So hurry to the eyerim website and give us something to do and stress about, won't you?!