Sometimes bad stuff happens, such as a messed up order due to higher demand during Christmas or a broken pair of glasses. However, sometimes you receive products with "things" which may occur such as defects and are ready to send back as a return. In reality, it is a common feature of glasses, not a deformation. Read these 4 most common issues we have met in our customer service.
1. The lenses in my prescription glasses are slightly yellow
For people, who work a lot with digital devices, there exist special glasses with additional filters as protection from blue light. The blue light protection layer has its own specialty - lenses with this technology have a light yellow colour with a blue reflection on the outer part. Don't worry, it is not any manufacturing defect. It is a common part of technology and this soft colouring helps to protect your eyes.
2. My glasses have asymmetrical temples
Plastic materials have their pros - they are light, many of them are sturdy and mainly flexible. Last mentioned is important - sometimes you receive eyewear, which has asymmetrical temples. This happens due to transportation or type of material. It is not a pleasing thing, but it's very easy to resolve this - just take your glasses in both hands and bend temples in the opposite direction.
3. I cannot see certain things through my polarized glasses
Polarized sunglasses are a thing - apart from the usual 100% protection from UV rays that all quality sunglasses offer, polarized sunglasses can give you even more. All polarized sunglasses have an extra chemical lens coating. This coating is developed to absorb sun rays and reduce the harmful type of light we know as "glare". From time to time, some of us still have old digital devices (such as alarm clocks, screens etc.) and if you are wearing polarized glasses you will see nothing. Why? The screen on your phone (or any other screen) has a polarizing filter that cuts glare and reflections to make it easier to see in bright sunlight. But your glasses have a polarizing filter too. When these two filters are aligned in opposite directions, all the light from your screen is cut out so you can't see anything.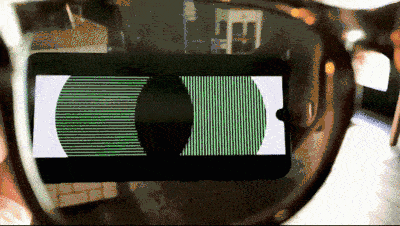 4. My Ray-Ban sunglasses are scratched
Who would want to buy designer eyewear and receive scratched ones? No one. Majority of Ray-Ban products include an 'RB' etched onto the left lens right next to the hinge. This may look like a scratch, but trust us - it is a sign of originality. If you own a polarized version, 'Ray-Ban P' should be engraved in the top corner of the right lens, as well. If "P" is missing be cautious, your sunglasses are either not polarized, or authentic. Ray-Ban products also include a high-quality sticker with Ray-Ban logo that sticks to the lens by static. Learn more about how to spot authentic Ray-Ban eyewear.
We believe you will find out that your order from eyerim eshop is all right and these four hints have saved your time. But in case of any questions or broken package, do not hesitate to ask our friendly customer service for assistance or read our FAQ.