Summer is around the corner and we are back with our cheeky little eyerim insider article number 2. No worries, if you missed the very first one here you can catch up, before you dive into this one!
This time we are going through only one office – the creative one. Among all the other incredibly visionary and professional people at eyerim, this office is filled with crazy creative ideas all the time. Everyone can come here and have a good laugh anytime of the day!
I couldn't imagine this article to have the real eyerim soul unless I'd give my office buddies a proper challenge – it wouldn't be as juicy as I hoped! So naturally, I decided to mix up the questions I asked with the first eyerim insider. Trust me guys, there's nothing in the world you'd enjoy more than hopelessly murmuring colleagues. Come on now, let's meet the creative heads!
Chester, the "office boss"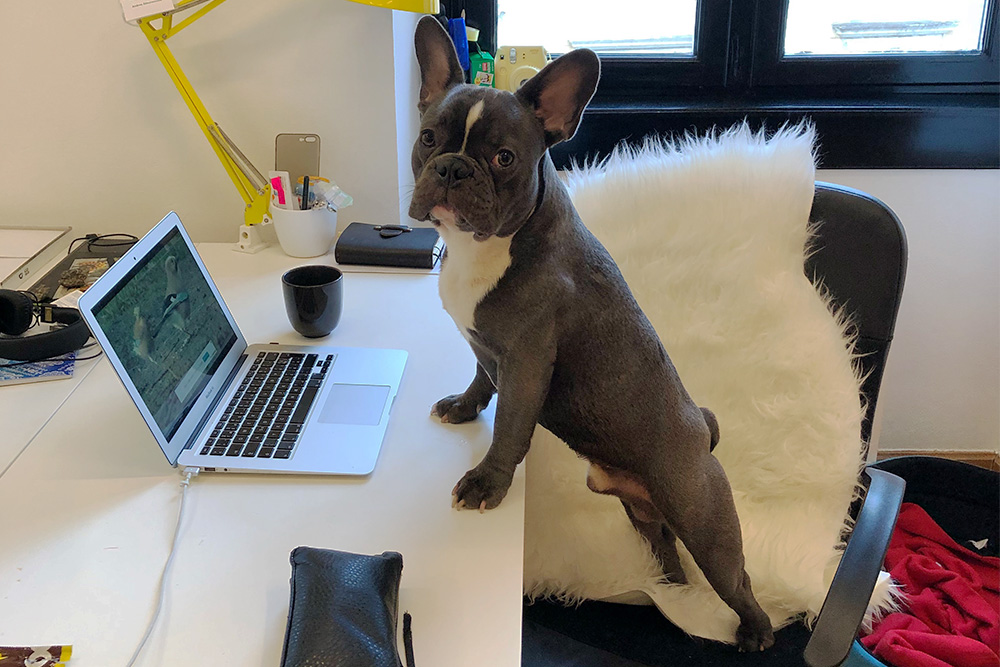 I wanted to start off this episode with the most important member of this office. Meet Chester, friends, the most adorable, playful office leader. His job description is one of the most complicated ones, therefore I am not going into it, but trust me – he can get so tired of it all that he must nap on the floor several times throughout the day. The eyerim office is his absolute favourite because of the people who always kindly give him something when they brunch or lunch or snack. Even though, sometimes they want to fool him with such embarrassments as the iceberg salad, arugula or carrots. He's no rabbit, people! He knows what he wants. Although, on the other hand, the one thing nobody knows about him is that he has two girlfriends in the building and he feels unsure whom he's more into. Ouch.
Andrea, the "adventure collector"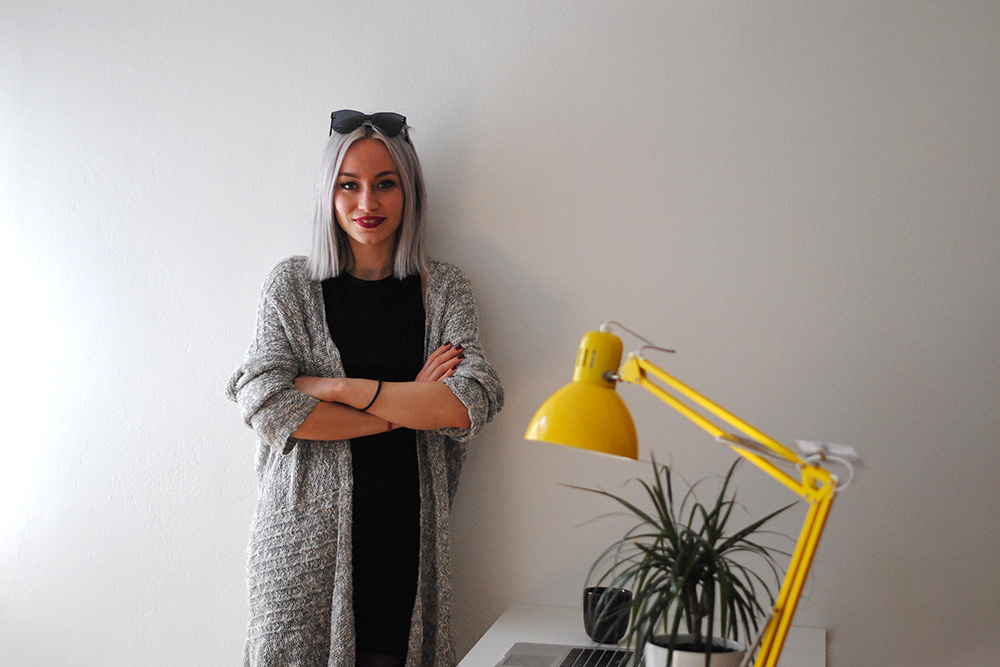 Or the "eyerim co-founder", the "creative director", the "influencer", the "mother of dragon Chester". Our Andrea could've literally found any two words to describe herself but she chose the ones she connected with the most. And I, along with everyone who knows her, can see why. Andrea is, as mentioned above, one of the four holy eyerim creators – with her brother (not husband, guys) Martin and mates Brano and Yass. She works as a director of everything creative at eyerim, from campaigns and social media management, to collaborations with influencers and photoshootings. She loves working at eyerim because it's partly hers; because she and three of her friends laid ground to it and worked their asses off so one day eyerim can become something huge. She simply enjoys the process of eyerim's growth. Andrea is not only a pro at her job, she is also an influencer – she has thousands of Instagram followers and is one of the most successful women of Slovakia, set by Frobes Slovakia! Check her Instagram account out and enjoy – it's filled with beautiful photos from all around the world. Let's all just hope she won't get lost on the road one day, whilst she cannot distinguish right side from the left one.
Patrik, the "forgetful mountain-lover"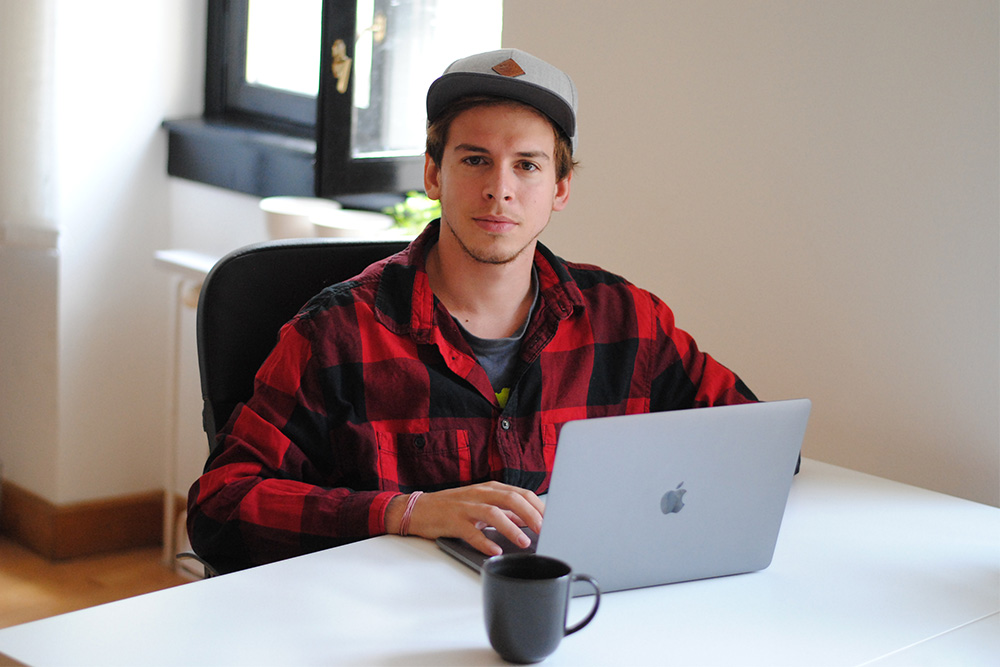 Patrik is one of a kind! He is a crazy talented, adventurous photographer who travels the world constantly. He takes care of all the eyerim visuals – photoshootings & awesome videos. Patrik loves the young team, full of ideas and aspirations at eyerim; the team that, unlike many others he has worked with, is not afraid to do things differently and fearlessly. One thing nobody knows about him is that he eats bacon right before he goes to sleep. Why? He simply explained: "It thinks me better in my dreams afterwards." Well, let's all try it tonight then, okay? As you can see, Patrik is not only professional photographer whose skills one could easily envy; he is also laidback, chilled, modest fella loving his life with all the little details. If you like Patrik as much as we do, you should definitely follow him around the world by his insane Instagram.
Branislav, the "aesthetics lover"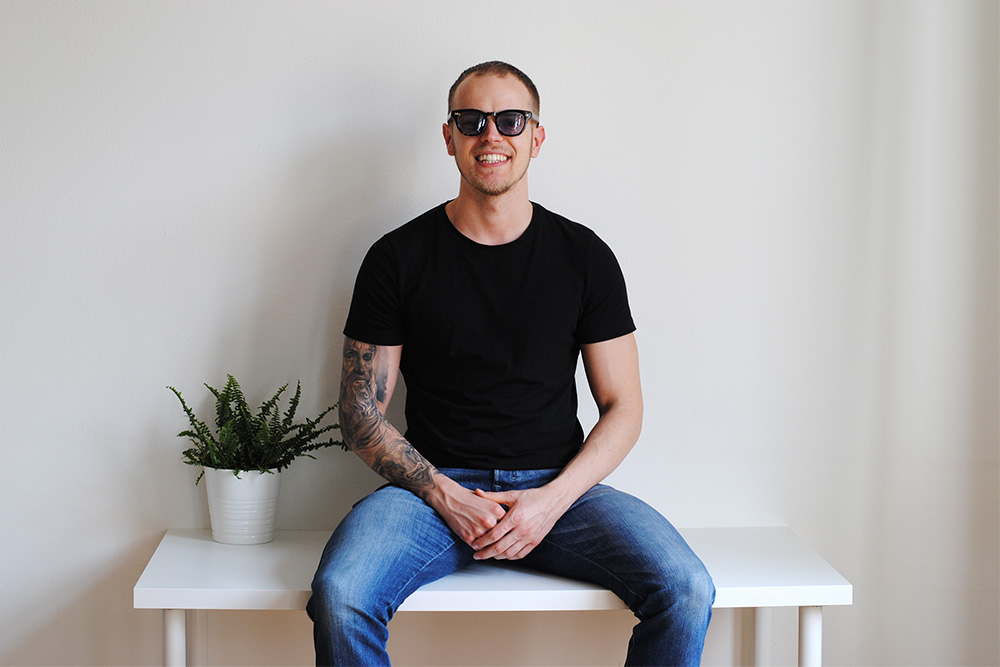 This 27- year old tattoo and simplicity-loving guy is the last one of our not-introduced-founders-yet. He is the brand guru – he creates the eyerim's brand, guidelines to go with it and applies the brand on the website, all the communication and emails. Then he keeps his eye on the UX (User Experience) part – the feeling that customer gets from the website and overall eyerim experience. Branislav is immensely particular guy, so everything must be in sync! He also makes all the photoshooting magic happen and right after that he guards all the visuals, whether they are the right ones for eyerim or not. The reason he loves working at eyerim is similar to the most people working here – the hardworking people who give their love to eyerim and drag eyerim to the very top; the young funky spirit; the fast expansion and growth. His deep aesthetics love is connected to his teenage years when he was obsessed with typefaces and creating his own ones. One thing not everyone would know about him? He ate a whole chicken, a burger and a large piece of cake all in one sitting once. Who looks badass now, huh? Check out his Instagram account, if you're eager to know more of his secrets.
Patricia, the "sarcastic thinker"
This is me – the narrator of these articles. Sadly, I couldn't make the interview with myself and then write a biased, glorifying part on how amazing I am. So I asked Branislav, the one who ate the whole chicken and bragged about it above, and among other things, my boss, who after interviewing me wrote this: "Patricia is our copywriter. That means she handles all the texts on our website, blog, emails, or campaigns. She also handles this very text you are reading right now. (The hell I am.) In other words - she gives a language and a character to things that would be otherwise boring, or might complicate your life. She likes how fearless eyerim is, its crazy soul and that it gives a chance to people who do not have that much experience, but they have a great inner drive. Other than that Patricia does not remember multiplication table, is the biggest Anna Wintour admirer and a dedicated feminist. If you do not find her behind her desk writing, you will find her nearby playing with Chester for sure." Thanks, boss. So I guess that's me in a nutshell! Here's my quite inactive Instagram account.
Jan, the "forever young"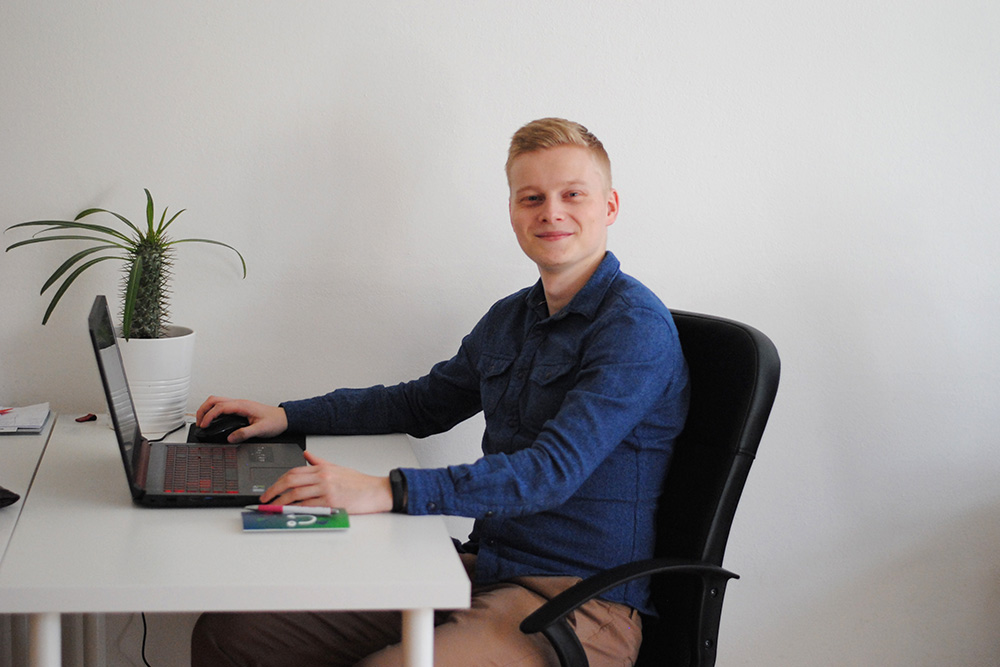 This cute and forever-young-looking face is our designer – he (obviously) designs and retouches all the eyerim banners, newsletters, vouchers and basically everything on our website and blog that you see. He is a lovely fella, very responsible and friendly who loves the "super" team, the friendly atmosphere and the big space for personal growth at eyerim. Other than being an incredibly talented dancer, a dog lover, an unbroken one, he also sniffs everything before he eats it, especially dairy (which is probably connected with his dog obsession). If you wouldn't mind getting to know him better, definitely give him a follow on his Instagram account. You won't regret it! He is our Golden Aryan child for something!
Daniel, the "expressive enthusiast"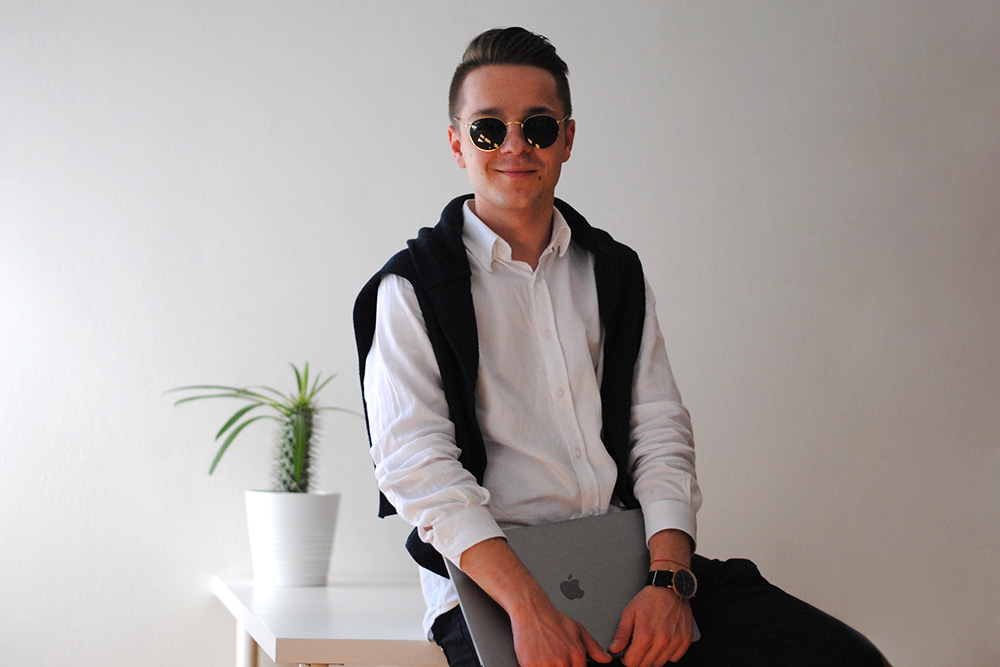 This 24- year old guy is the eyerim's bundle of joy, the ray of every morning's sunshine, the sensitive and the deep office thinker. He creates, he jokes, he loves and the most importantly – he works. He is an amazing marketing hero. Daniel creates eyerim campaigns with Andrea; he works with the main marketing cloud Exponea; he creates our newsletters and adverts. Daniel also takes care of communication with our partners and creative partnerships and he does it all pretty well! When asked what he loves the most about working at eyerim he shouted at me: "The TEAM!" and "Spreading the unbeliebably positive energy and unbelievable visions." Yes, that's pretty much who our Daniel is and that's why everyone adores him. You can too, just follow him here! And don't let me forget the most important fact about him: in his 24 years of age, he still has 2 baby teeth. How shocking!
There you go, friends. You just met another very important part of the team! Every member of eyerim, who is not afraid to take the risk of putting his passion, his ideas and have fun a little, is a member of a very appreciative and caring household – the eyerim fam. And if you're thinking about getting to know us better - we might be looking for you! How about reading this article and then join us, hey? Firstly, we have fun a lot over here and then we support each other on the way to our destination – the top.
No worries, we are growing every month, so stay tuned for another episode!