Knowing your pupillary distance is key to ordering prescription glasses online, but getting it can be a battle - and it shouldn't be. Learn how to measure your PD by yourself and get answers to common questions such what is a PD measurement and why this number is important to know when shopping for a new pair of specs.
What is Pupillary Distance?
If you've never worn glasses before, you might not know that a pupillary distance (PD) is a very important and valuable number. It's a measurement in millimetres between your eyes from the centre of one pupil to the centre of the other. Typically, an adult's PD falls in a range between 54 and 74 mm, and kids' is somewhere between 43 and 54 mm. While it's usually written as one measurement such as 55 (55 mm), it can also be expressed by two numbers, 26 and 29. In the second case, it's the individual distance from you right and left pupils to the centre of your nose.
A quick tip: On eyerim, we express PD by two numbers (case two). If your PD measurement is written as one, divide this number by two and you'll get two identical numbers that you'll later use in our prescription checkout.
Why is PD important and valuable number?
To put it simply, the folks who make your lenses need it to get them matched up properly with your eyes. If your PD is off, the "optical centre" of your lenses will be, too, and your glasses won't be as effective as they should be. Usually, your PD is measured during your eye exam and it should be included in your prescription receipt. However, if the numbers are simply left off the prescription receipt, we always recommend that you first contact your eye doctor to check if they have this measurement on file. The second option is to measure it by yourself.
How to measure your PD?
If you need to measure a PD yourself, follow these 5 simple steps:
STEP 1
Find a ruler with millimetre measurements and a mirror or a friend.
STEP 2
Stand straight in front of a mirror and place a simple ruler on your nose. Align the starting point of your ruler with the centre of your left eye pupil.
STEP 3
Keep the ruler steady and mark the location of the centre of the other eye's pupil on the ruler. The distance between the starting and the ending point represents your PD.
STEP 4
Repeat this process at least two times for an accurate measurement.
STEP 5
Some people may find it difficult to measure their PD themselves. Ask a friend to help you out and read off the measurement for you.
Still too complicated?
Shopping for prescriptions on eyerim is always super-easy and PD measurement is not an exception. You don't have to bookmark this article or constantly remind yourself of how to do this pupillary distance measurement. When you choose your frame on our website and proceed to fill in your prescription details just download our PD ruler kit with all instructions included and fill your details in our prescription checkout.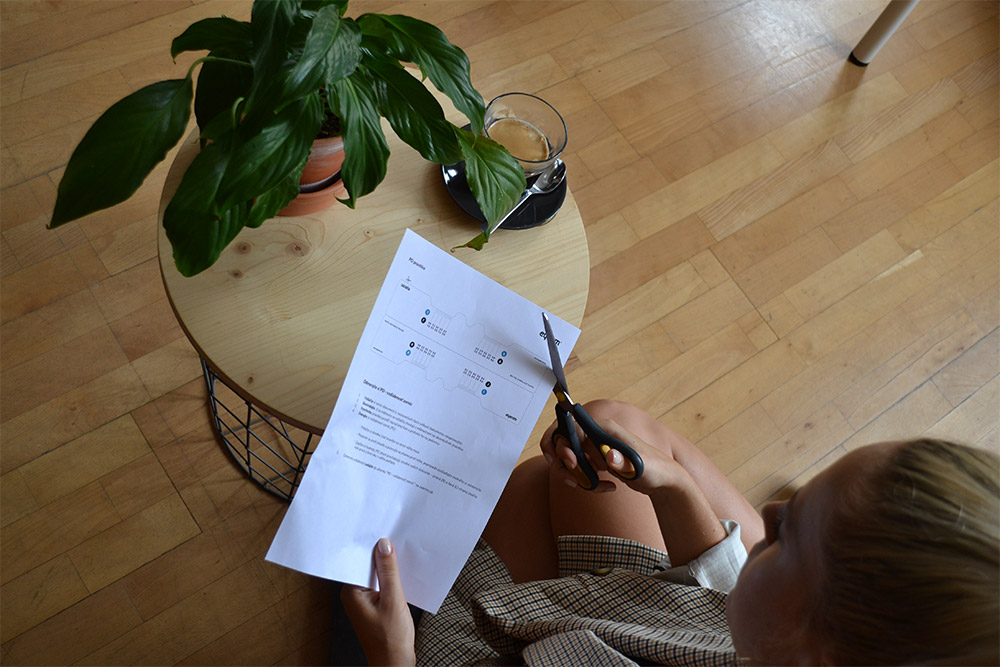 With your PD in one hand and your prescription details in another, you can save time and money by handling all of your optical needs on eyerim. If you have your pupillary distance measured and your prescription details ready as well, choose a frame on our website and save 50% on all our prescription lenses during this week. Sale ends on Friday, so you better hurry up!